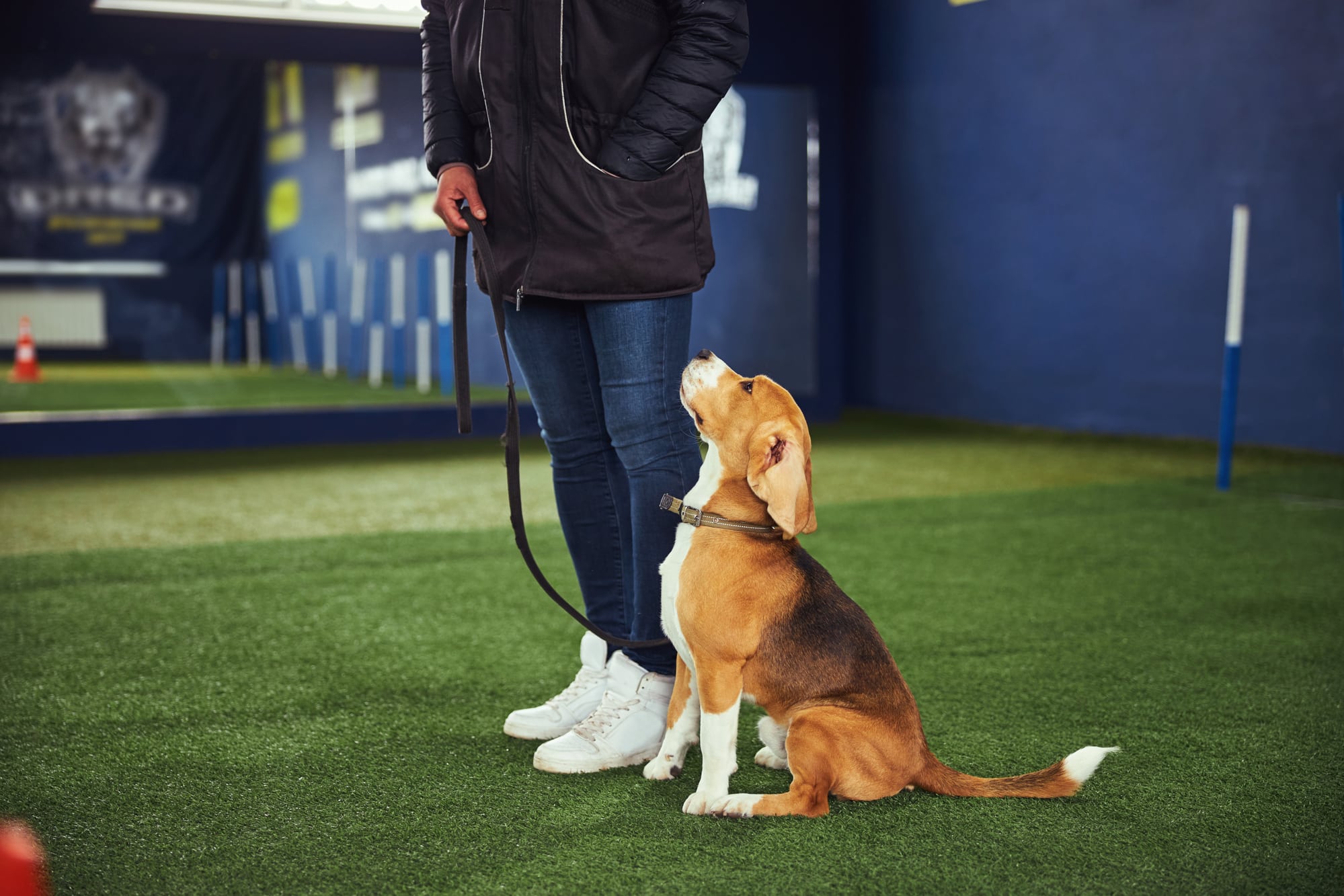 From teaching your dog basic obedience to advanced training for dog sports, an exceptional dog trainer is essential in making all the difference for new and veteran owners. Even experienced owners benefit significantly from hiring professional help – professional trainers provide valuable assistance for troubleshooting problems and honing abilities – plus group classes can socialize your pup!
But how do you know if you have found your ideal trainer? Dog training is an unregulated industry; anyone can print business cards and charge for her services regardless of background, education, or experience. When choosing your trainer, it's essential that you carefully research them first before handing over both money and pet to them; don't simply pick the nearest training school; rather, conduct a thorough investigation to identify if someone might be suitable.
Dog Training Services for your Convenience   
Obedience Training
Trainers use various ideas, techniques, and skills to improve your pet dog's manners, performance, response, behavior, and obedience. Before hiring one for yourself, make sure they possess research certificates and educational qualification experience references that could indicate they would provide satisfactory services – proper dog obedience training cannot guarantee better behavior from pets!
Just like humans, dogs can also exhibit negative traits if mistreated without training! Sacramento, California, boasts several acclaimed canine obedience trainers and training facilities; All Stage Canine Development in Sacramento stands out among them as being of particular note. Based on reviews, client history, affordability, trust, and other considerations, All Stage Canine Development stands out among dog obedience trainers in Sacramento as the premier option. 
Four Key Pointers When Deciding On One
Consider several key criteria when searching for an experienced dog trainer in Sacramento. These factors could include their experience and qualifications, philosophy used during training sessions, facility location, and ability to accommodate your canine's unique needs and preferences.
Experience and Qualifications (Resume and CV)
To become certified with the Certification Council for Professional Dog Trainers as a Knowledge Assessed trainer, a minimum of 300 hours in recent three years of dog training must have been logged and pass a 180-question multiple choice exam. Attaining such high standards ensures clients trust you over other trainers. Never stop learning! Dog training constantly advances, so staying informed with new research and techniques will allow you to become an exceptional dog trainer.
Training Philosophies and Methods
Due to an overwhelming variety of training methods available today, it can be dauntingly confusing attempting to determine which is the right approach for your dog and yourself as pet parents.
Facility and Location
Information provided by people who have used the services of your trainer of interest can often prove most helpful. Note whether or not the trainer is patient and clear when explaining their process and answering your queries; after all, not only is your dog involved with training – so will be training alongside their instructor too. Good communication between yourself and the trainer is essential in both cases!
Visit one of your trainer's sessions in order to see the style, techniques, and tools being employed by him or her. If any actions appear uncomfortable to you, then continue looking.
Searching for an Ideal Trainer
There are various training approaches and guides out there; what matters is finding one that suits YOUR pet in YOUR situation and lifestyle. At All Stage Canine Development, we can assist in not only choosing but implementing an animal training plan explicitly tailored towards reaching your goals with your animal friend.
Excellent Communication Skills are Needed for Dog Trainers
Effective communication doesn't only involve teaching an owner how to comply with commands learned during training sessions with their dog; sometimes, it involves informing the owner when their behavior contributes to what they wish to eradicate in their dog.
Positive Reinforcement
Worked with a lot of clients who have been trained by "100% positive trainers," or "all positive trainers," or those with "positive reinforcement based" titles. While it may seem appealing to rely solely on positive reinforcement, it is not effective on all dogs and may even exacerbate certain behaviors.
Professionalism and Dedication
An outstanding dog trainer requires professionalism, punctuality, dedication, and genuine passion for helping both their client and pet succeed. Offering excellent learning environments should always be at the core of each training session. Look for those with outstanding credentials: veterinarians, pet stores, or fellow dog owners can recommend trainers; strong online ratings from review websites that display customer testimonials, as well as overall solid online scores, can indicate whether the trainer would be appropriate – explore strategies to locate an appropriate trainer.
Asking for Referrals from People you Know
People will refer you more often if they know and like you personally, so be present and engaged with businesses you hope to do business with. Engage vet offices by giving staff talks or volunteer training programs. Arrive wearing logo clothing on busy days with pizza for lunch! Stay for a bit if it gets really chaotic that day by helping walk dogs, cleaning kennels, or staying for just an hour or two while helping out further – featuring those you hope to cultivate as clients in newsletters as you approach and asking what additional assistance might be provided.
Dog Training Classes
Trainers and veterinarians once recommended that puppies should attend training classes after all necessary vaccines and booster shots had been received. However, this often led to puppies developing behavioral issues before even reaching class, as they missed out on important socialization periods. As part of their effort, many experts, including veterinarians, veterinary technicians, animal behaviorists, and trainers, now recommend enrolling healthy puppies into classes as early as 7-8 weeks of age. According to the American Veterinary Society of Animal Behavior (AVSAB), puppies may begin socialization classes as early as 7-8 weeks of age provided.
Research Online (Certification isn't a Guarantee)
Modern life makes raising dogs much simpler; owners now have access to great schools, groomers, off-leash parks, toys (oh, the toys!), etc. If we encounter any issue at all with our pup, all it takes to get help is reaching for their smartphones and searching. Unfortunately, though, when searching, we often come up with hundreds of results for each simple issue we encounter; coupled with unregulated dog training industries, this often leaves us searching fruitlessly through conflicting information sources. Good news – there are people out there with both expertise and qualifications who can offer assistance.
Trust and Listen to Your Instincts
Paying special attention to any changes in body language provides insight into behavior as a means for understanding them better. In order to manage dogs effectively, it is also crucial that we learn their significance – you need an intuitive eye here as much as anything!
Clicker Training for Better Communication
Clicker training is similar to positive reinforcement training with the added use of a clicker noisemaker – just a small mechanical noisemaker – providing instantaneous reinforcement of behaviors rewarded with clickers. Based on animal learning science and behavior modification theory, rewards tend to reinforce behavior more. So rather than emphasizing what your dog does wrong while neglecting good behaviors altogether, clicker training focuses on rewarding what your pup's doing right instead. By telling your dog what's expected rather than telling it not to behave accordingly, you could make an incredible difference in the choices of his behavior!
Lure and Reward Training for Dogs
The lure and reward training method involves using treats or toys as lures to "lure" your pup into desired behaviors or positions and rewarding him/her afterwards – this method has proven extremely successful at teaching basic commands such as sit, down and stay.
Balanced Training of Dogs (BTD)
Balanced training employs positive reinforcement with corrective methods like leash corrections or verbal reprimands for the best learning experience possible for any dog or situation. While some trainers find this method effective with certain animals or scenarios, making sure discipline methods used by your trainer are humane and suitable to your pet prior to making any commitments and engaging their services is key! Furthermore, discuss which training methods they intend to employ before signing any contracts!
Electronic training, more commonly referred to as shock collar or e-collar training, utilizes an electric collar with shock pads that release electrical current when your pet engages in unwanted behavior. Though electronic training has its place, its usage should always be treated as a last resort after consulting professional advice prior to beginning this form of discipline. Note that every dog responds differently to training methods; what works for one may not necessarily benefit another. A professional can assess your pup's specific needs and tailor his/her approach accordingly.
What Can Be Expected of Puppy Training in Sacramento
Puppy Training classes provide an effective means of early education and bond formation between you and your new pup. Each of our puppy training courses is specifically tailored for dogs between 2-6 months of age and covers an array of important topics. Our puppy training classes cover all the fundamentals needed for obedience through positive reinforcement, games, and socialization. 
Our expert puppy trainers will show you the steps to effectively communicating with your pup! All Stage Canine Development provides instruction on preventing unwanted behavior while building a solid relationship between yourself and your puppy. Each class focuses on problem-solving and troubleshooting behavioral concerns – topics covered include sit, down, stay, leave it, recall off wait, and loose leash walking as part of our coursework.
Basic Obedience
Puppy training typically centers on teaching basic obedience to create an initial framework of obedience training and create strong bonds between you and your puppy.
Socialization
Exposing your puppy to different people, animals, and environments is essential in puppy training; this allows him or her to feel at ease when confronted by unfamiliar stimuli in future environments and reduces fear-induced aggression or anxiety later.
House Training
Potty training, or house training, is essential in training your puppy successfully. This involves teaching him where and when he should use the bathroom. With patience and consistency, most puppies should become completely house-trained within several months.
Positive Reinforcement
As with dog training in Sacramento, puppy training should also utilize positive reinforcement techniques. This involves rewarding desired behavior with treats, praise, or playtime – creating an encouraging learning experience that both you and your puppy will enjoy! Positive reinforcement training offers one of the most efficient yet humane methods available today that helps create an enriching learning environment!   
Patience
When training dogs, patience is an invaluable trait that a trainer must possess. By adhering to your dog's pace and developing strong bonds between yourself and them, patience will enable a positive learning experience for all parties involved.
Questions to Ask Potential Dog Trainers
It is critical when interviewing potential Sacramento dog trainers that the right questions be asked of each candidate so as to find one suitable for both you and your canine. Here are a few key inquiries:
What are Your Training Methods, Experience, & Qualifications? What type of behavioral issues has your company successfully managed in the past?
How are availability and scheduling handled at your facility with regard to equipment used? And finally, do you follow positive reinforcement vs corrective techniques as policies?
Can You Provide References and Testimonials From Past Clients? What Is Your Approach for Working with Puppies Versus Older Dogs?
Communicate, and Update Clients on Progress, And Provide Refunds/Cancellation Policies
Asking these questions will enable you to fully grasp a trainer's approach and determine whether they fit you and your pup well.
Online Resources for Locating Dog Trainers in Sacramento
Search engines such as Google can be an excellent way to quickly and effectively find dog trainers in Sacramento. Here are a few online resources worth investigating:
Certification Council for Professional Dog Trainers (CCPDT), Trainer Search
This site allows you to locate certified dog trainers in Sacramento by location, certification status, and training focus.
International Association of Canine Professionals (IACP), Find a Professional
This directory lists IACP-certified dog trainers in Sacramento that you can search by location, specialty, and training methods.
Association of Professional Dog Trainers (APDT) Trainer Search
This directory makes searching for certified APDT-accredited dog trainers easy in Sacramento – you can search by location, specialty, and training methods available.
Yelp
This online review site lets users read reviews and ratings about local dog trainers in Sacramento.
Google
A simple Google search of "dog trainer Sacramento" will yield plenty of relevant information – reviews, websites, and contact info of available trainers in the Sacramento area.
Unsure Your Furry Friend Is Well-Behaved
Finding a suitable dog trainer will ensure your furry friend remains well-behaved, happy, and safe. By understanding the significance of dog training and obedience programs and key considerations when looking for trainers near the Sacramento area, you can make a more informed decision and find one who fits both you and your pup's individual needs – don't be shy to ask questions, trust instincts or use positive reinforcement techniques; as this way, patience, consistency, and guidance from qualified dog trainer can allow both of you to build strong bonds ensuring years of companionship togetherness or joy between both!